Fayoum : Where Art Meets Nature
What's better than spending your weekend sandboarding down sand dunes, taking a safari in the desert, swimming in a magic lake or even camping on the floor of a million years old ocean. Fayoum is the place where you will find all of that and so much more.
At the same time, you can listen and jam to music by local musicians and experience the art of pottery in Tunis Village.
It's only around 1.5-2 hours away and can be closer to you than the mall (depending on where you live). Fayoum is home to many artists, musicians, actors, directors, and all-round creatives who escaped the hustle and bustle of congested Cairo to live by the Oasis. One of the best ways we can describe it is it's an escape, a safe haven, where you can be surrounded by nature and tradition at the same time. The amazing locals want nothing more than to share their love, traditions, culture, art, heritage, and cuisine like all Egyptians do.
Vacations, there are a lot cheaper compared to other trendy places in Egypt. Making it perfect if you're traveling on a budget, or even just taking a weekend away from the city. The weather in the mornings is warm and scorching in summer. It's best to visit in spring and autumn because, in the winter, it tends to get extremely cold at night.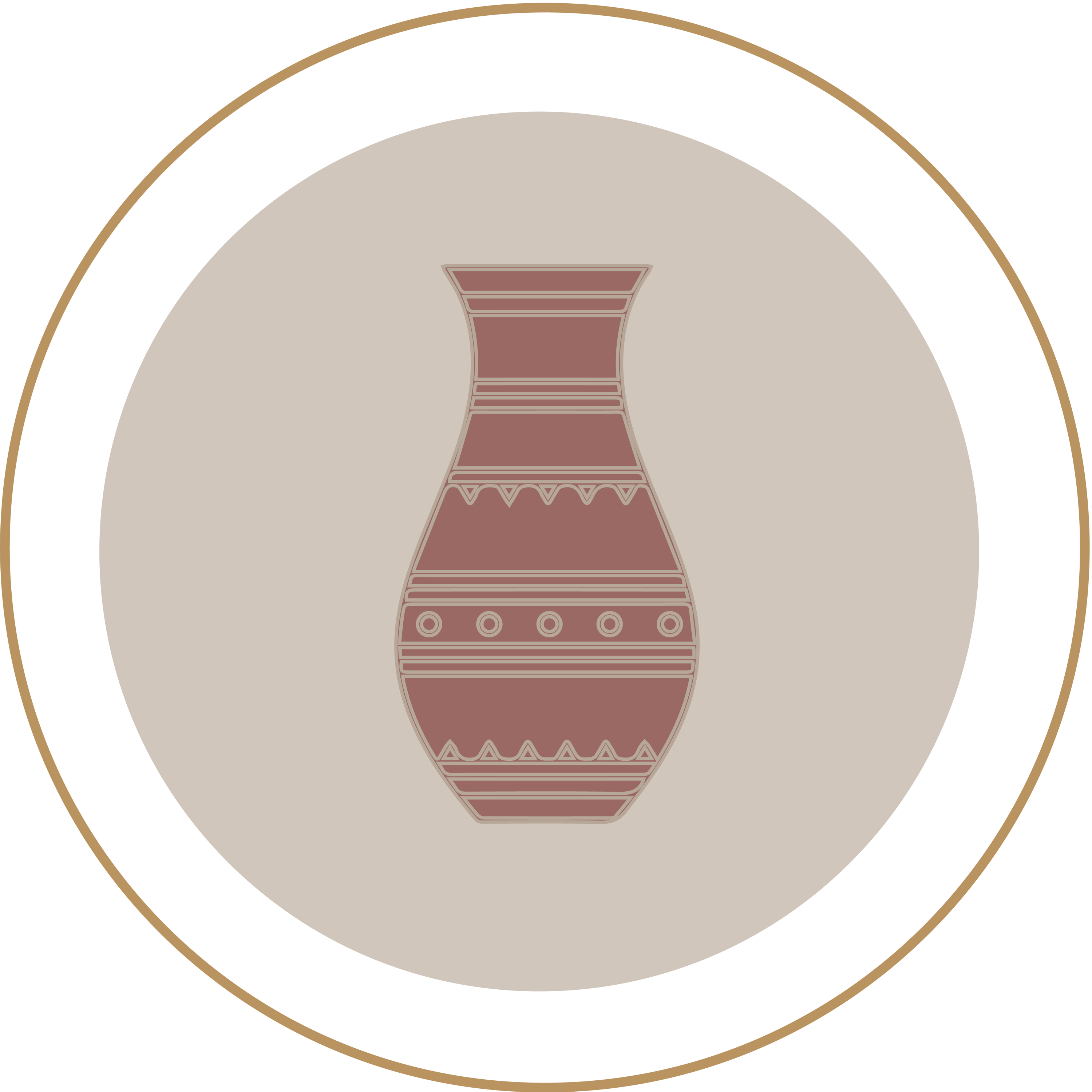 Public micro-buses will take you there from Remaya Square, it may be the cheapest option and an adventurous one for those who want to explore. When you arrive, you'll need to take a tuk-tuk (that's another adventure) or taxi to your destination.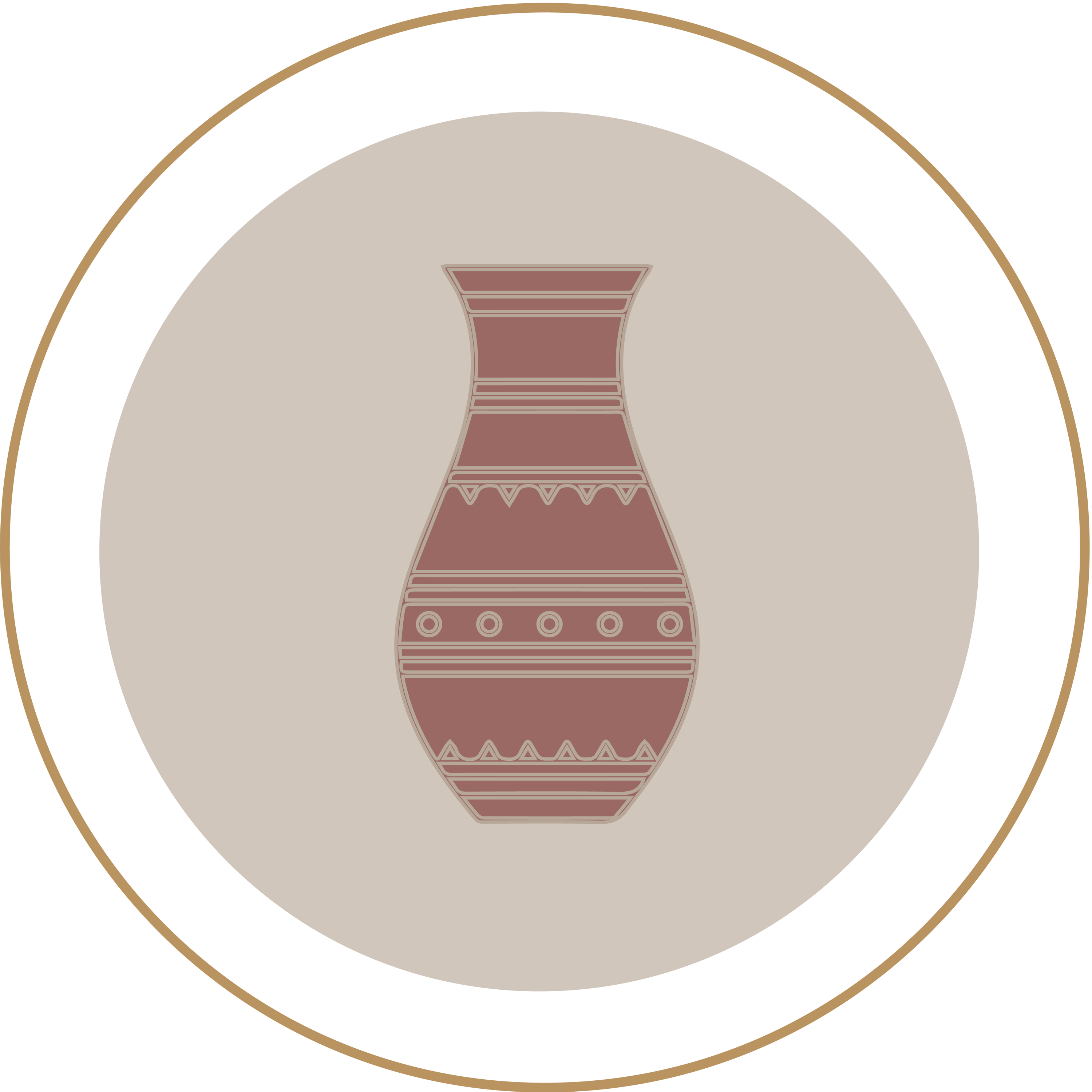 Wadi El-Hitan (Valley of the Whales) is the home of 40 million-year-old whale skeletons and fossils, from the first whales, ancestors to modern-day whales. It was declared a UNESCO World Heritage site in 2005.
More below....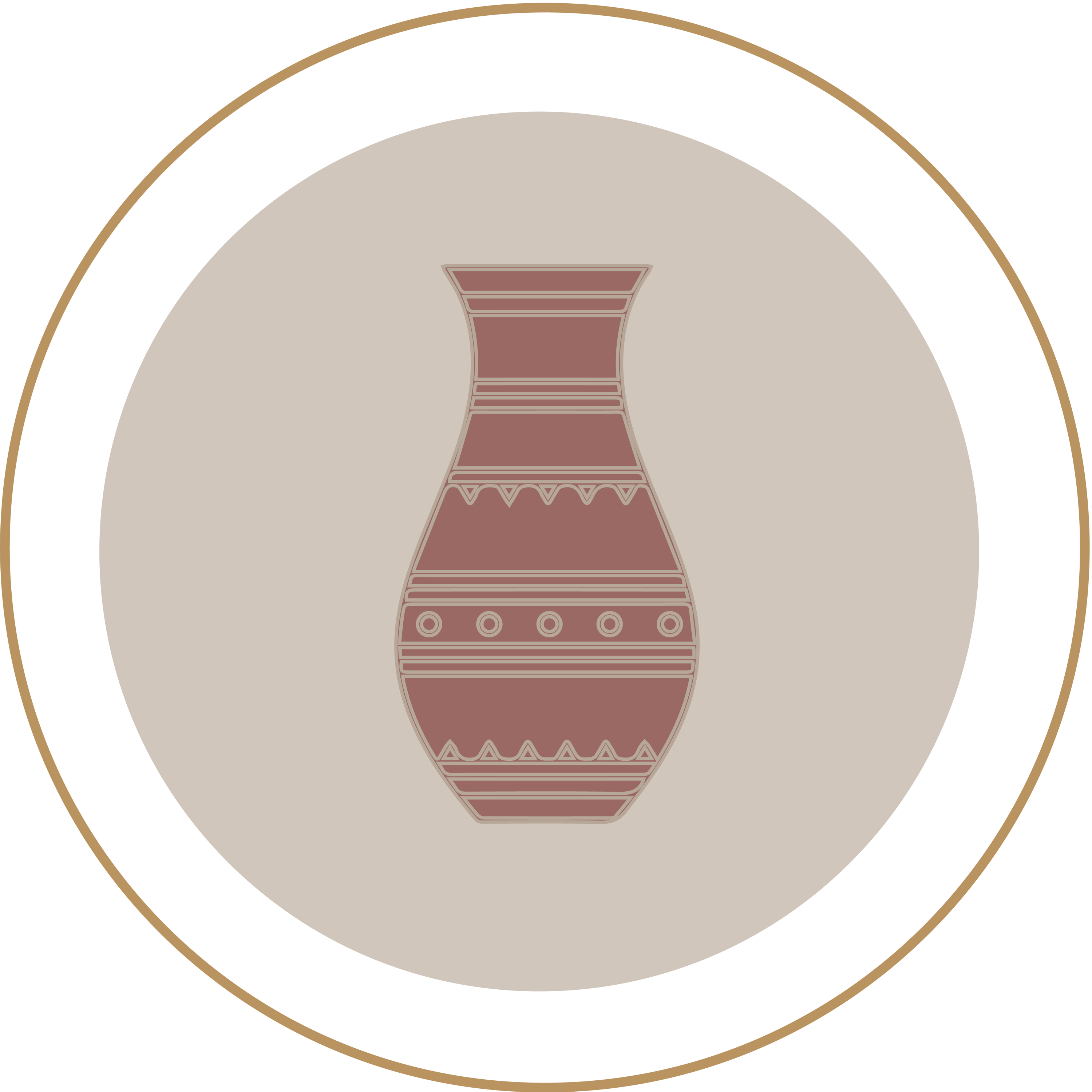 Exploring the mind blowing sandy dunes in the desert in a Sahara Jeep and while you're on it for an exciting must-try adrenaline rush let your Arab driver surprise you with an off-roading experience like no other ~ he's probably going to do it anyway!
Keep reading below...
Egypt's only waterfall is in Wadi El-Rayan. Where rare animals like the Dorcas Gazelle, Ruppell's Sand, Fox, and Fennec Fox live. Along with numerous different species of birds, making it a bird watchers heaven.
Qaroun Lake, aka Magic Lake, is said to be one of the oldest ancient natural sites. It has been a protected area since 1989, and it's perfect for fishing and bird watching. The best time to visit is from July to September.
Waterwheels are the symbol for Fayoum and its Oasis. There are more than 200 wheels that locals depend on for agriculture, irrigation, and farming.
Fayoum is home to many cultures and historical attractions from all around the world. The Graeco-Roman era left behind monuments from the third century B.C like Kom Oshim, a city that houses temples for crocodile gods. During the Roman rule in the XIIth dynasty, an Obelisk of Senouesrt tower was built, along with the Hawara and Abd Al Lahun Pyramids.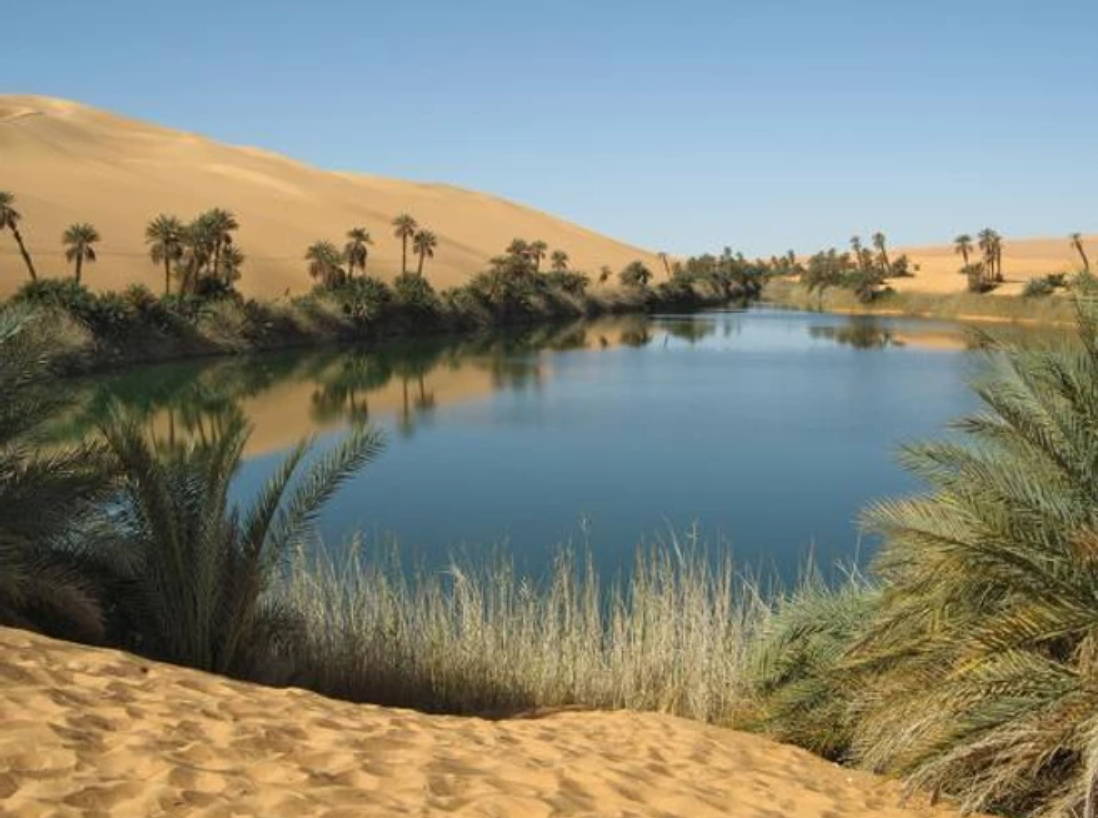 You can go horseback riding by Qaroun lake/ magic lake, which is nothing less than magical.
Camping on the million years old dried ocean floor in Wadi El-Hitan. It's recommended that you camp during winter weekends for cool temperatures at night and during the day.
Take a pottery workshop in Tunis village. Which was founded by Evelyne Porret, a Swiss woman who moved to Fayoum with her husband, in the 1980s. Both, like all of us, immediately fell in love with Fayoum. And decided to build a house that was used as a pottery center. To teach locals how to be better potters and craftsmen. After that, Tunis village was known as a utopia for artists. Till today people travel from all over the world to Tunis village to live, learn, and work alongside the locals and their traditional techniques for creating pottery art.
For breakfast we suggest you go to Sobek Lodge for and have a traditional brekky on the roof with a view of the serenity of Fayoum.
If you're up for an exotic desert feast, have the local Bedouins prepare an underground meal in an earth oven (ground oven/cooking pit) as the ground traps all the heat and flavors. They can also smoke, steam, or even bake your food in it. Our favorite dishes were rice, chicken, and juicy duck, probably the best we've ever had.
Also, if you have a sweet tooth or even a savoy one, you'll need to try their famous feteer. Which is a fluffy flat pastry that is buttery and heavenly. You can have it with honey or even cheese, making it perfect for everyone.
​
For a more fancy atmosphere, Lazib Inn's Blue Donkey is the place to go! You will probably spend more than you would spend on accommodation BUT we heard the food is DELICIOUS!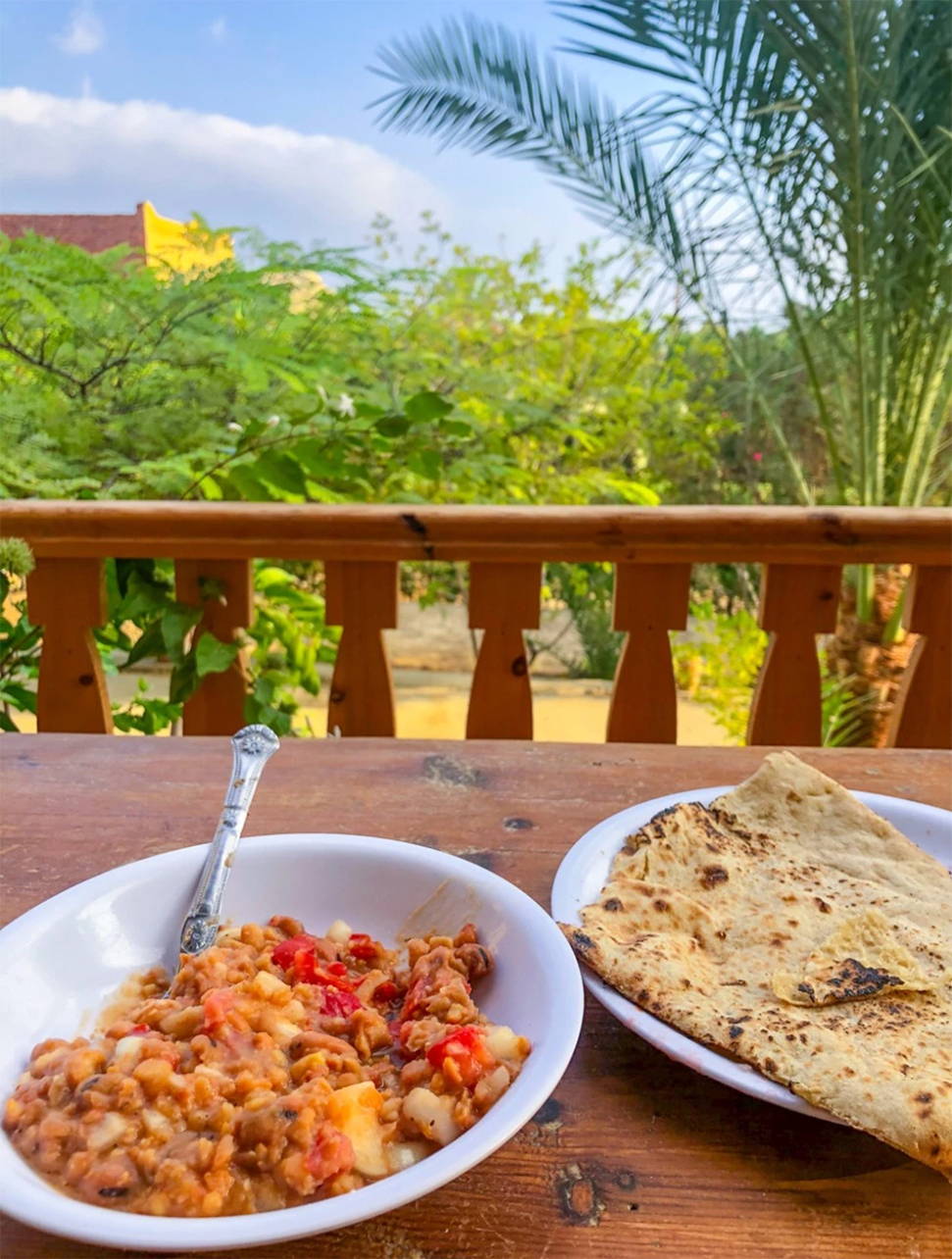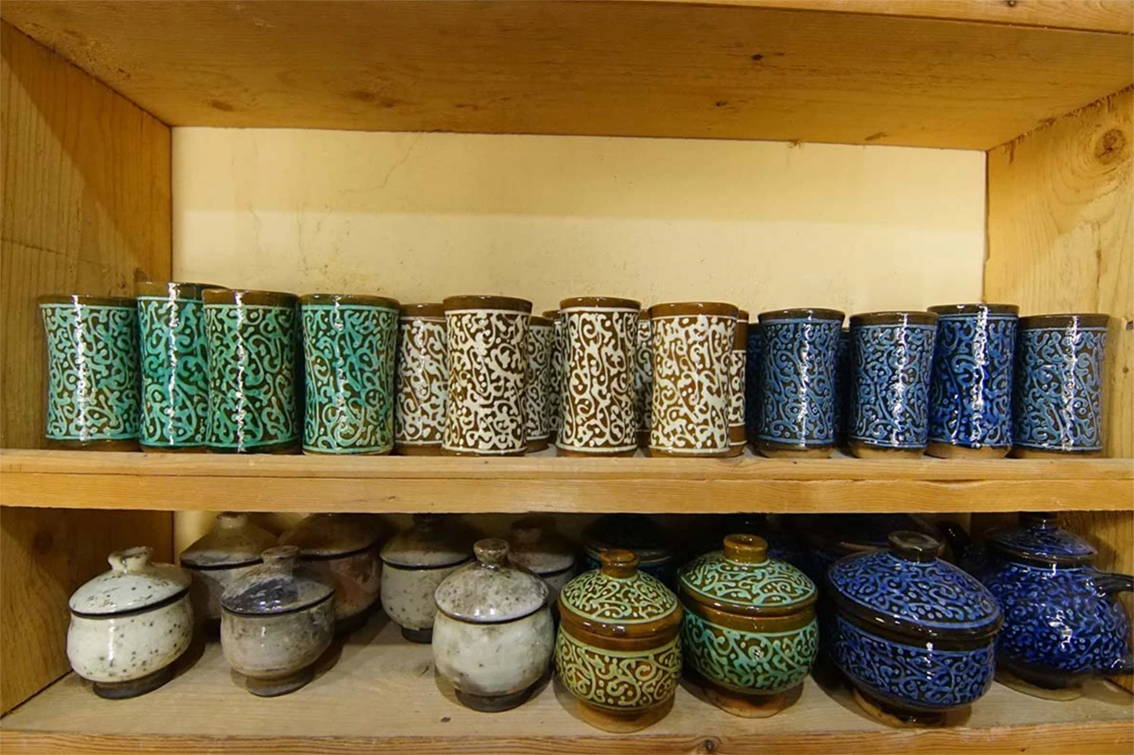 Make sure that you support the locals while you're visiting. Most of them make their living by farming or making handmade products like palm-leaf baskets, kilim, accessories, or pottery pieces by selling them to tourists. When you're shopping, try not to bargain with the craftsmen and pay them the asking price. After all, you're buying a piece of art and culture.
At the end of every month, there is a huge market where all the locals showcase all their crafts. So it's a recommended time to go visit and shop. Think of it like a trip to your local Saturday market but only a little bit further away.
Tunis Tone is a campsite at Tunis Village that is said to be on the highest hill facing Qaroun Lake. It has a restaurant, a bar, garden, children's playground, a bar and a terrace. It also features both WiFi and private parking free of charge. They offer a vegetarian breakfast option along with the traditional continental one. Rates start at 390EGP.
> For more information, contact them on 01119959711
https://www.facebook.com/pg/tunistonecamp/about/?ref=page_internal
Kom El Dikka Agri lodge has been around for over 30-years. Its located within its very own Olive farm that was developed into an Agri-tourism lodge, and it has a view that overlooks Lake Qarun. You can always go horseback riding, jogging, and fishing on the lakefront in the property. Rates start at 2,311EGP.
For more information, contact them on 01222440012 or email
https://www.facebook.com/komeldikkaagrilodge/
Magic Lake camp is what it sounds like, a campsite is located on the magic lake. You can arrange for the locals to set up tents and all the necessary equipment for you to tent out under the stars. All you will need are some sleeping bags, toiletries as you'll be doing it the traditional way, which is said to be more healthy by the way, a guitar and some cool vibes!
> For more information, you can contact 01025220255 or email
For a more luxurious stay, located in Tunis village. Overlooking Qaroun Lake is a self-described royal countryside retreat that reflects the nature and the rustic beauty of Fayoum. It's interior more like a work of art that is distinctively designed with exquisite attention to detail. Rates start at 3,552EGP.
For more information, contact them on 01222440012 or 084 282 0000 email
https://lazib-inn-resort-spa.business.site/?utm_source=gmb&utm_medium=referral
Just a 5 minute walk, and you'll find Qaroun Lake. Zad El Mosafer is described to have traditionally decorated rooms with stone floors, mud-brick walls, and colorful rugs. The outdoor area has a pool and an oriental restaurant. There are even pottery workshops you can take part in. Rates start at 443EGP.
> For more information, contact them on 01002367240 or 0846820180
https://www.facebook.com/Zad-ELMosafer-Guest-House-230412360350291/
With its very own private beach area and outdoor pool, Byoum brings the true meaning of Lakeside to the hotel as it sits on the banks of Qarun Lake. The hotel has a restaurant, barbecue facilities, and a large terrace overlooking the magic lake.
Rates start at 1,241EGP
For more information contact them on 011212155551 or email
https://www.byoumhotel.com/
If you're traveling with a big group, you can always rent a stunning villa with a pool, just send us an email, and we'll help you find one.